Karl-Erik Tallmo,
lectures
---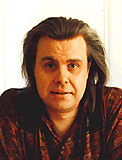 I lecture frequently about the Internet from a humanistic point of view, about, for instance, the new possibilities of fiction, whether or not it is possible to obtain knowledge with the help of modern information technology, the problems of preservation and authenticity that come with electronic publishing, the future of reading etc. I speak now and then about my cultural magazine The Art Bin and my experience from publishing cultural material on the Web.
I have also coined the expression "public hypersphere" as a description of the new transparent space we all share through the totality of all of the new media, and I have lectured about the special problems of privacy in this strange new world.
Some more questions and topics are listed in my presentation at Guestfinder.
Below are a few samples from lectures delivered during the last years (in reverse order). If you wish to contact me and discuss lecturing or interviews, write to tallmo@nisus.se or call +46 708-24 44 13.


The Personal Data Act and the Integrity Problem

A short introduction before the hearing at the Swedish Parliamentary Standing Committee on the Constitution, December 8th, 1998:

"What we now have is a law which primarily hinders the normal and legitimate usage of personal data, but which hardly protects us from illegitimate use of such. A fundamental question is, of course, can the law protect us at all in this incredibly complex world which we are in the process of creating for ourselves, or should matters instead be left up to individuals to take responsibility for controlling what they disseminate about themselves? "

Read more!


Will Copyright Disappear?

Excerpts from a lecture at the Swedish Librarian Society's Conference on Copyright in Örebro, September 25th, 1998:

"... during a couple of hundred years, musical notation merely remained the starting point for the variations of the interpreter. This attitude is of interest when discussing the integrity of a piece. At that time, it was inconceivable to think that it could be regarded as a violation to add one's own embellishments to a composer's work. That was, in fact, the whole idea - an integral part of the performance. It is interesting to consider the distinction between a more fixed structure and a more fluid one, subject to reinterpretation at every performance, when discussing modern ideas such as publishing individually tailored excerpts from a database."

Read more!


Internet Art is Expanding
- and Imploding

From a guest lecture at the Valand University College of Art in Gothenburg, Sweden, June 3d, 1998:

"Personally I believe synesthesia might be a more interesting model for multimedia design than this sensorial fragmentation that now often is the result. "

Read more!


The Electronic Word: An Epistemological Dilemma

Speech given at the Royal Library in Stockholm on December 15, 1997:

"Being well informed, as it is so often called, does not necessarily mean that one knows anything."

Read more!


When Everyone Becomes a Publisher ...

Lecture in Oslo, Norway, at the seminar "Freedom of Speech and Censorship in a Global Perspective", October 13th, 1997:

"We can manage ourselves, we want to make our own judgements, we want access to information so we can evaluate it ourselves. Representatives are OK, but we want to be able to more directly control our representatives too, what they read and write. If somebody tries to limit this right, fine, then we will invent something new."

Read more!


About "The Art Bin" and the Possibilities of E-publishing

From introductory speech at a debate during The Swedish Librarian Society's 75 year anniversary, Uppsala, March 22nd, 1996:

"The magazine is actually an unsorted heap of material. Structure is entirely local. "

Soon to be uploaded!


Archives and Preservation in the Computer Age

Excerpt from a speech given at the opening ceremonies of the Gothenburg City Archive's new facilities on April 19, 1994:

"Fifty years from now, our grandchildren might only be able to read the text on the cover of the CD-ROM disks ..."

Read more!
Read also the three articles about archival preservation.


In Swedish only - with a few quotations in English:

Change the Spread of Information
- and Power Will Also Shift

Introductory address at Culturenet Sweden's seminar on net law,
September 23rd, 1997:

" Experts versus politicians versus the people - this tridental polarity is perfect for the kind of knowledge equalization that digital networks could really excel in. "

More in Swedish!



Internet as a Medium for Market Communication

From a lecture at a seminar at Uppsala University October 25th, 1995:

" Today when price haggling is somewhat obsolete, people still want to feel they achieved a good deal."

More in Swedish!



Where is Information Technology Heading?

From a speeach at the Uppsala Library Days, Uppsala University, April 27th, 1995:

" The word was industrialized first, which was the foundation for the real industrialization. Maybe the digital word today is heralding a more radical digitalization of production and life in general."

More in Swedish!



Electronic Documents
- Possibilities and Problems

From a lecture at the fair "Archives & Documents", Stockholm, March 21st, 1995:

" Journalists usually try to confirm information from two independent sources before they print a story. This method is seriously challenged in the networking age. If one finds two documents that confirm a story - how can one be sure they are independent from each other?"

More in Swedish!
In English you may read three articles about archival preservation.

---
[Back to Karl-Erik Tallmo's start page]